Junk Removal Springfield VA Junk Hauling, Bulk Trash Pickup
Git Rid of It Junk Removal Springfield VA offers fast, affordable hauling of junk, trash, old furniture, appliances, refrigerators, ovens, stoves, dishwashers, carpet, construction debris, couches, chairs, desks, decks, fences, pianos, swing sets & playsets, hot tubs, rubbish, old boats, scrap metal, old tv removal, tree debris, lawn mower removal, yard waste and more.
Gid Rid of It Junk Removal Springfield VA offers Hoarder Cleanout Service, Attic Cleanouts, Basement Cleanouts, Shed Cleanouts, Yard Cleanups, Deck Dismantling & Removal, Fence Dismantling & Removal, Play Set Dismantling & Removal, Storage Unit Cleanouts, Foreclosure Cleanouts, Fire Restoration Cleanup, Office Cleanouts & More.
Git Rid of It has been providing junk removal and junk hauling services to Springfield VA for over 15 years. Springfield VA junk removal requires a professional, experienced company. People also need typical junk removal such as: debris removal, scrap metal removal, deck removal, construction clean up, shed removal, hot tub removal, furniture removal, couch or sofa removal, refrigerator removal, and just about anything else you need hauled away!
If there is anything you need hauled away, this is where we come in. We provide no obligation estimates and operate 7 days a week to all areas in Springfield VA. We offer same day service and will most often beat our competitor's prices. Springfield VA junk removal includes a large truck with multiple crewmembers, disposal fees, the heavy lifting, and all other associated costs. Everything is included in our low price! Call now or click Free Estimate above to receive your estimate.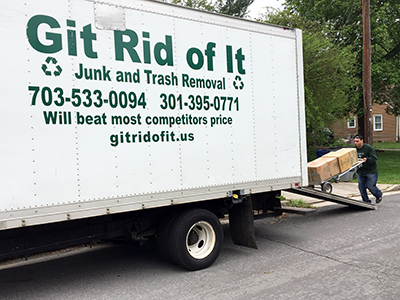 Couch removal
Pick up and delivery
Basement cleanouts
Crawl space cleanouts
Tree debris removal
Foreclosure cleanouts
Office cleanouts
Hoarder clean up
Carpet pick up and removal
Shed dismantling and removal
Play set dismantling and removal
Riding lawn mower removal
Junk removal
Scrap metal removal
Attic cleanouts
TV Removal
Move or deliver single pieces
Storage cleanouts
Fence dismantling and removal
Swing set dismantling and removal
Yard debris cleanup and removal
Trash removal
Furniture delivery
Item pick up from stores
Appliance pick up and removal
Fire restoration
Porch dismantling and removal
Item pick up from stores
Construction debris cleanup
Hot tub dismantling and removal
Sailboat / boat dismantling and removal
Google Review by Barbara:
"Get Rid of It Junk Removal did an outstanding job at the end of February when we moved out of our home in McLean. We had lived there for 41+ years during which time my husband had accumulated soooo much stuff. The crew of four were amazing!!! They worked non stop not only removing items from our house but emptied out the garage, attic and loft. We had an old massive bedroom set that could not be moved down to the main level so they used a saw to cut it into small pieces with our permission. I stood there in awe watching them load an entire truck of what my husband considered to be treasures over the years (but what I considered junk). Thanks to them and all their hard work we were able to get to the settlement table on time!!! Would highly recommend this company. They took so much of the stress out of our move. THANK-YOU!"
Google Review by Betsy:
"Whole apartment clean out. Did a great job, worked quickly and were very professional and nice. Even swept the floors. Highly recommend."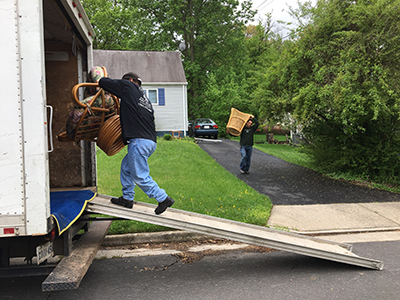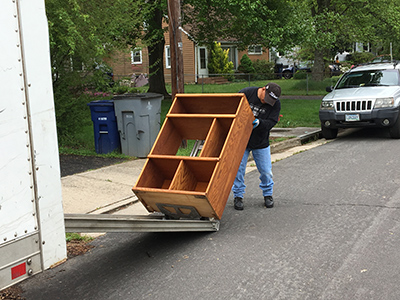 If you are searching the internet for "junk removal near me" "junk removal in Springfield VA" or "junk hauling, bulk trash pickup in Springfield VA," Get Rid Of It Junk Removal serves all of Springfield Virginia including zip codes 22015, 22150, 22151, 22152 & 22153 and its neighboring towns and cities. Give us a call or email us today!